Hadley Freeman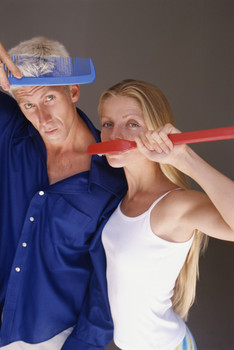 The 1970s French fashion photographer Guy Bourdin was not known for being a particularly pleasant guy. His work was characterised by abrasively harsh colours, models simulating death, and splayed legs. In 1969 he ordered a model to lump into a bath filled with black paint, leaving her, an onlooker recalled, "enamelled like a Another of his shoots involved coating the models in glue and pearls to the point where they couldn't breathe. ("Oh, it would be so beautiful to have them dead in bed," Bourdin is reported to have said to his protesting helpers.) His second wife, who he kept locked up in their apartment in Paris, hanged herself, and one girlfriend slashed her wrists. With such a biography, it is unsurprising that Bourdin's critics, and an increasing number of supporters, are often tempted to conflate his personal life with his work (his models have red hair--and so did his mother!).
This is not the only problem today's audiences confront with the first full retrospective of Bourdin's work, 12 years after his death, and currently showing at the Victoria and Albert Museum. If fashion photography is desire writ large, what then, to make of Guy Bourdin's prostrate, blank-faced women? Showing the early influences of Man Ray and Edward Weston, Bourdin invests accessories with heightened desire, almost to the point of fetishisation. But fetishism is a dangerously distorted form of desire, as in his photo of the police outline of a woman, pink sandals and sunglasses the only remaining signs of life.
From Horst P Horst's "phoney elegance" (his words) of the l950s to Corinne Day's bleached-out photos of Kate Moss in the 1990s, fashion photography has been a visual representation of the fascinations of its time. So, again, what to make of Guy Bourdin, with his images of women as voyeuristic objects? Even more than Helmut Newton (whose vision of women is just plain weird), Bourdin's women anticipate the supermodels of the 1980s. Their hair is very big, their lips are very red and, just like the supermodels, they are emphatically powerless despite their muscled and attenuated limbs. They are props in someone else's vision, whether it be Bourdin's or Anna Wintour's, and the images of them are no more empowering than shoulder pads.
Bourdin made women look otherworldly, inhuman; it is a satirical extension of what we still demand from models today. In one of his most striking photos, two women are dressing in an airless, anonymous bathroom. Their mannered movements recall the alien donning a human suit in Tim Burton's Mars Attacks.
In an article last year, the gallery owner Michael Hoppen praised Bourdin's "ability to get to the soul of a subject". On the contrary, Bourdin renders his subjects totally anonymous. It is hard to imagine that Hoppen would recognise any of Bourdin's models if they hit him over the head with a stiletto, let alone recognise their "soul". Bourdin does not capture individuals, he captures an era, which is both his strength and his weakness. His photographs are striking as a whole, but not so individually. He is a masterful stylist, evoking mood and atmosphere powerfully--but the lack of a similar subtlety in subject matter is all too apparent in such an extensive retrospective.
So perhaps we need a hint of darkness to lend a reassuring suggestion of intellectual depth to fashion photography. There are similarities between Bourdin's work and that of Mario Testino, whose pictures have also recently been considered worthy of an exhibition. Both photographers make beautiful people look unreal. Both articulate the obsessions of their era while seeming to subscribe to them: for Bourdin, it was fear of feminism's effect on female sexuality; for Testino, it is the veneration of the famous. But where the National Portrait Gallery was attacked for hosting a celebration of Testino's work, the V&A's "Guy Bourdin" has been enthusiastically anticipated. Is celebrity really so much tawdrier than mi sogyny?
Whereas other celebrity fashion photographers such as David LaChapelle and Nick Knight (or Testino, for that matter) demonstrate real variety in their work, constructing their photographs to reflect the subject, Bourdin's have the monotonous hum of single-minded obsession. Thus his work becomes not so much shocking, or even titillating, but merely repetitive; after the fifth upraised backside, they all blend into one. He may be making the (frankly, obvious) point about misogyny in the fashion world, but that does not excuse him from a similar charge - his personal life aside. After looking at 20 years' worth of these photos, I found myself wishing that Bourdin had worked out his psychological kinks on a therapist's sofa instead of behind the lens.
Bourdin's supporters argue that his influence is enduring and pervasive. Indeed, his eerily suggestive narratives can still be seen in the fat glossies. But fashion photography was moving towards Bourdin's style anyway. In the 1950s, Irving Penn and Richard Avedon established the idea of stylised movement in fashion shoots; in the 1960s, David Bailey and Terence Donovan introduced a sexualised charge and brought more attention to the photographer. Bourdin incorporated these lessons into the ethos of his own era.
His continuing popularity can be attributed to his technical skill and the fashion industry's love to shock. While it is possible to admire his work, it is difficult really to like it. Bourdin's work is ultimately about the emptiness of consumerism and the sexualisation of strong women. But despite these preoccupations of the 1960s and 1970s, we then hurled ourselves into the decade of Gordon Gekko and Cindy Crawford. So was his vision right all along?
It seems unlikely that another Bourdin photo of a woman's naked torso under a pink duvet, or standing against a camouflage-papered wall wearing only a gas mask would have headed off supermodels posing in pinstriped miniskirts and stilettos. Perhaps it is even unlikelier that that was ever Bourdin's intention.
"Buy Bourdin" is at the Victoria and Albert Museum, London SW7 (0870 906 3883) until 17 August
Hadley Freeman is a fashion editor on the Guardian