Photography on the world's
Cunard Lines promotes its newest ship, the Queen Mary 2 (QM2), as the longest, widest, tallest, biggest, most elegant, and expensive ship ever built. After spending 12 clays on board for a recent cruise. I would certainly agree. The ship has 14 decks which is about as high as a 23-story building and, if stood on end, would be almost as tall as the Empire State Building. Construction on the ship started in January 2001: it set sail for the first time in April 2003 at a cost of $800 million.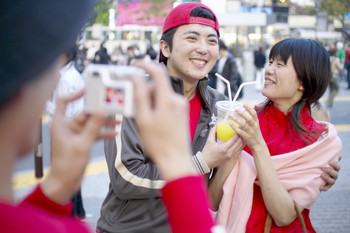 The September cruise was entitled "Splendours of the Fall" that sailed from New York with stops in Newport, Rhode Island: Sydney and Halifax, Nova Scotia: Corner Brook, Newfoundland: Quebec City, Quebec: Portland, Maine: and then back to New York. The trip had almost 2500 passengers on board with an additional crew of 2000. The ship visited some of these cities for the first time, so there were huge welcoming celebrations in each. Portland staged a spectacular fireworks show, and an estimated 25,000 people came to the dock in Quebec City to welcome the QM2. The other cities had similar welcome celebrations.
But this photographer was interested in the ship's technology, especially the photographic department. All those that have ever taken a cruise will know that a ship always has one or more photographers on board with a shot taken when the passenger initially boards the ship and then many, many times throughout a trip. The QM2 had 11 photographers, employed by Images, a company based in the Cayman Islands, that provides similar services on over 40 other cruise ships. Each photographer normally does a 6 to 8 month stint on-board and then receives an 8-week vacation. On a voyage of this duration, they will take 15,000 to 20,000 images.
The photographers all use Kodak 14 MP cameras always shooting at lower resolutions because the largest print they make is an 8 x 10. This sized print, if you want to buy one, sells for $27.50.
The ship's photo lab has 2 digital processing machines that run almost continuously. It also has several computer terminals used for any changes that might be needed on the images. Pictures are taken under all kinds of hight levels, so sometimes it's necessary to make corrections on the color, contrast, and brightness. The lab's computers will store images for up to 6 cruises; so if you get home and want to order additional prints, you can go to the company's website and place an order on-line.
Normally in the evening when everyone is dressed up for dinner, they have several photo setups around the ship with various backgrounds. Two umbrellas with flash provide the lighting, and the camera is connected to a small computer terminal that shows the image as soon as it's taken. A quick scan of your ship ID card identifies you with your images. This information is immediately sent to the lab on the ship via a cable plugged into a nearby wall outlet, and the picture is printed a few minutes later.
Wireless technology is also available throughout the entire ship, so it's possible to send images directly from a camera to the lab. The system enables the passenger to view his own images on the television in his stateroom! You can order any prints you like either from your stateroom TV or by viewing the actual prints in the ship's large photo gallery.
The QM2 had several meeting rooms for instructional classes on various subjects. Basic information on digital cameras was very popular as well as some advanced classes on digital photography software. There were also 3 rooms with 25 computers in each, so passengers could get their e-mail and explore the internet. This could also be done right from your television in your room. On--line access was quite expensive though, at fifty cents a minute.
In general, the ship is almost a complete floating city. Twice as large as the original Queen Mary, the ship has several huge theatres and ballrooms, a health spa, gym, hospital, casino, 14 restaurants, 10 bars, and lounges. It also has a very unique planetarium where various sky shows are presented.
Four giant electric motors, two fixed and two that rotate 360 degrees, power the ship. Each of these motors weigh 330 tons, or about the same weight as a 747 airplane, and are powered by diesel generators that are big enough to provide enough power for a city of 225,000 people. There are so many incredible statistics about the QM2 that they have several books that list the facts and a DVD that shows how the ship was built.
Twelve incredible days--a really great cruise experience, but Photographic Society of America members will know it was the photography situation that fascinated this member!
Any mention of products or services in this article or anywhere else in the PSA Journal does not constitute an endorsement or approval of those items.